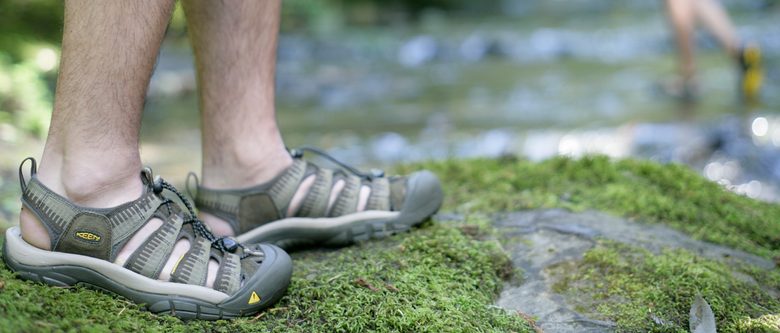 Keen NEWPORT
Keen Newport pohodlné turistické sandály bez rizika rozbitých prstů byly vyvinuty v světovém centru plachtění na Rhode Islandu, aby řešily problémy při zachování pohodlí sandálů. Ochrana špičky chrání vaše palce před palubou nebo skálou na pobřeží. Newport podrážky jsou vyrobeny s neklouzavého materiálu, který vám brání uklouznutí a pádu přes palubu.
Newport voděodolný kožený svršek ( v případě verze h2 je vyroben z nepromokavé textilie) a anatomická podrážka je dostatečně pohodlná pro prodloužené nošení na dlouhých vodních cestách, turistických výletech do kopců nebo jen procházky po městě.
Hodnocení zákazníků: 
★★★★ 
Jsem tak rád, že mám zpátky svůj pár Keenů. Zkoušel jsem jinou značku, ale není to to samé. Rozčilovat se stahovacími popruhy nebo přezkami. Miluji měkčí stélku klasických Newport než verze H2 a uschnou téměř stejně rychle. Jako vždy skvělá ochrana prstů. Těším se na mnoho kilometrů ve svém novém páru Newportů.
★★★★★ 
Vybral jsem si ve velikosti větší než běžné a perfektně sedí. Mám širokou nohu a jsou velmi pohodlné, bez tření nebo zmáčknutí. Celková podpora je podobná běžecké botě s mírně tužší podešví. Doslova jsem otevřel krabici, dál je na nohy a šel .
★★★★★ 
Jak řekl ortoped, ke kterému chodím se synem - jediné značka bot, která se dá dědit . Když je na synovi viděla má sestra, vyzkoušela je neteři a ihned objednala.
★★★★
Nosila jsem se pár těchto sandálu a teď mám druhý. Normálně nosím šiřší boty, ale Keen Newport sednou ve standardní šíři . Moje jediná stížnost s prvním párem je že se od gumová podrážky začaly oddělovat jednotlivé vrstvy z usně.  Ale to bylo asi po dvou letech.
★★★★ 
Toto je můj druhý pár Keen Newport sandálů. Když jsem je poprvé dostal byly úzké. Poslal jsem je zpátky a objednal o půl velikosti větší , které sedí mnohem lépe. Můj první pár, ve kterém se cítím skvěle od prvního dne.  Doufejme, že budou pohodlné při delším nošení.
★★★★★ 
Koupil jsem KEEN sandále pro mého švagra k narozeninám, miluje je a nosí je všude !